Beginner Kids Martial Arts Classes Enrolling In October
Castro Valley parents, discover the unique kids martial arts classes at Fearless Martial Arts Academy that go beyond teaching punches and kicks to also teach children the skills they need to succeed in life. From focus, to goal-setting, to self-discipline, to self-respect, kids emerge from this program with leadership abilities, character-building tools … and fearless!
In addition to life skills and character development, there are countless other benefits to kids learning martial arts. One of the most important is self-defense against bullies. Our instructors empower students with the confidence to look a bully in the eye and to stand their ground. Most confrontations can be talked through. Occasionally, however, words are not enough. Fearless Martial Arts Academy prepares it students for either situation.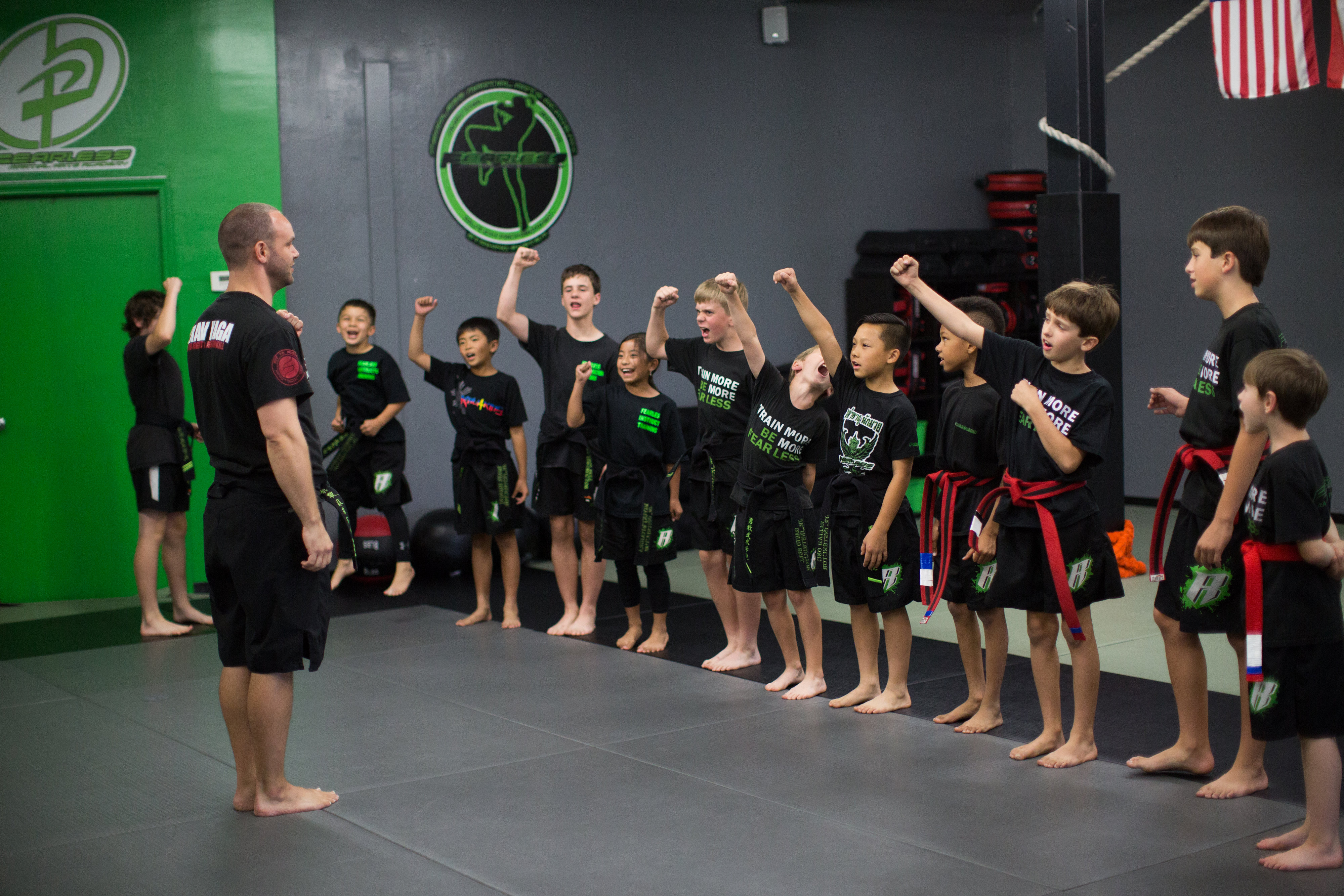 The Best Activity For Kids - Hands Down!
Another key benefit is fitness. Martial arts are an amazing form of exercise. Children will be active the entire class time, but there is no pressure to do anything they cannot do. Their energy will increase and alertness will improve. Best of all, they are having fun at the same time.
Fearless Dragons
The Fearless Dragons Kids Martial Arts program at Fearless Martial Arts Academy is the ideal way to introduce your child to martial arts. Designed for kids ages 4 to 6, classes allow students to learn a foundation for martial arts and age-appropriate self-defense, while having fun with their peers at the same time.
Fearless Dragons will learn very basic movements and techniques from different martial arts – Tae Kwon Do, Thai kickboxing and Jujitsu – and use them in drills and games. With these high-energy activities, children are able to:
Develop coordination and balance necessary in martial arts and useful in everyday activities.
Spend their energy in a healthy productive way.
Learn the importance and value of patience by taking turns.
Gain confidence in their skills and abilities.
Enhance their concentration and focus by listening to and following directions.
Interact respectfully with fellow students.
Youth Program
The Youth Program at Fearless Martial Arts Academy provides the opportunity to learn a blend of various martial arts. Our curriculum is challenging by design, however the instructors work hard to create a secure atmosphere so that students have the confidence to accept this challenge. Our curriculum teaches effective, powerful self-defense skills as well as how and when to use these skills. This involves emphasizing proper and positive attitude, which Fearless Martial Arts Academy students strive to embody.
Bring Out The Best In Your Kids Starting This Month!
Fearless Martial Arts Academy is the martial arts school of choice for parents from all over the area. For more information, simply fill out the short form on the side of this page!